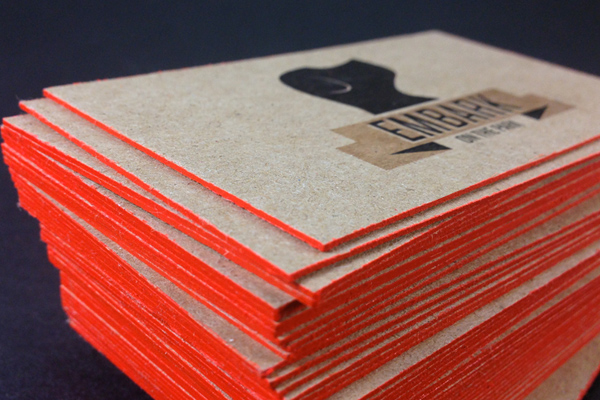 If you're looking for eco-friendly business cards with a premium finish, this is the perfect September sale item for you. Order 250 business cards (3.5" x 2") produced on thick 100% Recycled 18pt Brown Kraft stock. This deal also includes your choice of any CMYK shade for the edges - adding instant interest to your cards!
Design Notes
Please note that the colour of the stock will affect how colours in your design appear once printed – and we don't print white ink as part of regular CMYK printing. This means any white areas in your design will be considered transparent and will end up being the natural brown colour of the paper. 
Since the paper itself is a much darker shade than the normal white stock you may be used to printing on, lighter ink colours will not be as visible when printed on this paper. We recommend to use black or dark ink colours for the best contrast on this stock. Learn more about colours on Kraft.
Don't have your own design software? You can use our free online card creator to set up your design, including pre-designed templates or the option to start from scratch. 
Order Now 100 quantity for $99!
Sale prices are in CAD plus applicable taxes and shipping. Sale ends September 30th 2016 or when quantities run out.